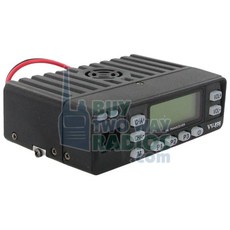 One look at the Leixen VV-898 and you can tell it isn't just another mobile radio. It's less than half the size of a conventional mobile two way radio and at just over 11 ounces, it's also lightweight, but don't let its tiny footprint fool you. This little radio packs a punch on both UHF and VHF bands with only 10W of operation. It's a solid solution for densely packed dashes. You can even install the VV-898 without drilling any holes. All things considered, the VV-898 is a great choice for those who want a small and discreet radio on the road or in vehicles in which installation of a full size mobile is difficult or out of the question.
Sure, it's easy to put in your vehicle, but what can you do with it, and what can it do? Is it difficult to program? is it easy to operate? Let's take a closer look.
The Leixen VV-898 - what is it good for?
For starters, this little radio is handy for hams who cruise around town while on the local nets or a ragchew in the 2 meter (144-148MHz) or 70cm (420-450MHz) amateur radio bands. But that's not all it does. The Leixen VV-898 is also Part 90 type accepted as a full fledged business radio, which means businesses can also it as mobile transceiver or even a base station radio when connected to an AC power source and mounted to a wall or desk. The typical mobile business radio can cost hundreds each. Investing in the VV-898 for an entire mobile fleet can save a company a lot of money on two way communications. Type accepted for business use? Really? If you don't believe me, look it up. FCC ID: 2AC2Z-898UV.
Key features - what can it do?
Okay, so it's somewhat versatile and can be used in more than one radio service. But what can it do? Plenty. Although it may be light in weight, it is not light on features.
Dual Band UHF/VHF transmit and receive
200-260MHz/87.5-108MHz (Receive Only)
4W/10W Transmit Power
199 Channels
Voice Scramble - Configurable per channel
Emergency Alarm
Channel Scan
Skip Channel
Dual Watch
Companding - Configurable per channel
Busy Channel Lockout
CTCSS/DCS Codes
Backlit LCD Display
Backlit Keypad
User Customizable Power-On Display Message
Power Save Feature (Auto Power Off)
Timeout Timer
VOX
Keypad Lock
English Voice Prompts
Wireless Frequency Change (Wireless Cloning Capable)
PC Programmable
Built-in Speaker
DTMF Code
Supports 2.5k Step
Reset
Individual Call
Group Call
Remote TX/TX Inhibition
Adjustable Squelch
Adjustable Display Font Size (No kidding!)
PTT ID - Send a code that IDs your transceiver
Roger Beep Enable/Disable
Reverse - Swaps out the offset frequency for simplex operation
Tail Elimination
Talk around
Wideband/Narrowband operation
Programming the VV-898 - how difficult is it?
As with many mobile two way radios, the VV-898 can be programmed in one of two ways, either direct from the console and/or keypad, or through a computer via programming software. Let's take a quick look at both.
Direct from the radio
At first glance, programming the radio directly through the console seems complicated and foreboding, but not because there are a lot of buttons, knobs and dials, but because there aren't. In fact, there are no knobs or dials on this radio at all. There are only 9 buttons on the face of the radio itself, four of which are function keys, and a rather plain looking keypad on the hand microphone consisting of sixteen keys, four of which are labeled with the letters A, B, C, and D, respectively. Although the keys are marked, there is nothing intuitive at all about them in regards to actually programming the radio. In addition, the user manual, at only 55 pages, seems rather basic, providing the essentials of operation without much detail. In other words, the simplicity in design of the radio itself and within the pages of its user guide may give the user a sense it is a complicated device to program.
However, it isn't complicated at all. You just need to read the manual before you start, and not necessarily in page order. That is the key. You will also need to use the buttons on the console and the keypad on the hand microphone combined to do it efficiently. It takes longer at first, but once you understand the sequence needed to enter a frequency, assign it to a channel and save it to the radio, the entire procedure makes sense. I personally think setting up frequencies and channels on the VV-898 is easier than programming a Baofeng UV-5R, but then, so are many other radios.
The menu consists of 51 items. Default settings are bold.
Menu #
Menu Item
Description
Option
01
Auto Power Off (APO)
Turns off radio after set time
10 mins to 16 hours/OFF
02
APRO
Sets compander and voice scrambler
on per channel basis
ON/OFF
03
Busy Channel Lockout
Disables TX on active channel
ON/OFF
04
Key Beep
Beep when key is pressed
ON/OFF
05
Channel Save
Save frequency as memory channel
default channel is 001
06
DTMF Function
Dual Tone Multi-Frequency settings
Individual Call
Group Call
Code Transmission Mode
Remote RX/TX Inhibition
Enable/Disable
ID Code 1000
A

Enable/Disable

07
Dual Watch
monitor dual frequencies
ON/OFF
08
Decode Type
Set CTCSS/DCS
OFF/CTCSS/NDCS/IDCS
09
Decode Code
Choose CTCSS/DCS Code
NONE/Code #
10
Encode Type
Set CTCSS/DCS
OFF/CTCSS/NDCS/IDCS
11
Encode Code
Choose CTCSS/DCS Code
NONE/Code #
12
FM Radio
built-in broadcast receiver
ON/OFF
13
FM Scan
Scan FM radio channels
ON/OFF
14
FM SQL
Sets squelch for FM radio scan
0-9/5
15
FM Dual Watch
Listen to FM radio and RX simultaneously
ON/OFF
16
Font Size
Adjust display font
SMAL/BIG
17
Key Lock Function
Lock transceiver controls
ON/K/K+S/ALL/OFF
18
Keypad Function
Sets DTMF Keypad
ON/OFF
19
Backlight (Lamp)
Sets display backlight
OFF/KEY/CONT
20
Set Channel Name Display
Display channel name
ON/OFF
21
Channel Name Display
Choose name or number
ON/OFF
22
Edit Channel Name
Create name for channel
Name***
23
Set Opening Display
Set power on display text
ALL/SYS/User/Time
24-29
Custom Keys Set
Define Programmable keys
P1, P3, P3, M
30
High/Low Power Set
Sets transmit power
LOW/HIGH
31
PTT ID
Sends code to identify
your transceiver
ON/OFF
32
PTT SET
Sets PTT A and B
A=B/A!=B
33
Roger
Sends a "Roger Beep"
ON/OFF
34
Reverse
Swaps RX/TX frequencies for
to toggle simplex
and repeater operation
ON/OFF
35-36
Offset Frequency
Sets offset frequency
37
Save Battery
Sets sleep mode option
ON/OFF
38-40
Scan Menus
Sets scan modes
TO/CO
41
Squelch Level
Sets Squelch Level
0-9/2
42
Step
Adjusts frequency step
2.5/5/6.25/10/12.5
LOW/25KHz
43
Tail Elimination
noise burst at end of transmit
ON/OFF
44
Talk Around
Enables Talk Around
ON/OFF
45
Timeout Timer
sets TX timeout
10-120 seconds/30
46
TX Stop
Enables/disables transmitter
OFF/ON
47-50
VOX
Sets Voice Operated Transmit features
ON/OFF
51
Wide/Narrow Bandwidth Set
Sets channel bandwidth
WIDE/NARROW
Programming with software
The VV-898 programming software is a lot more intuitive, of course, and generally easier than manually programming through the physical interface of the radio itself. Although the VV-898 does have a nice feature set, its full capabilities become more noticeable once you run the software. It's not complicated, but the software is more comprehensive and offers more programming options than you may expect from such tiny, simple looking radio. Considering its size and price, the VV-898 can do quite a lot more than just transmit and receive.
The USB programming cable is proprietary to this radio, so it isn't like you can mix and match them like you can with, say, Baofeng and Wouxun handheld transceivers. The programming software is also specific to the radio. However, the software is available as a free download, and for the most part it is self-explanatory, so unless you have never programmed a two way radio before, it should not be difficult to master. The USB cable driver needs to be installed, the programming software is available for Windows PCs only, and you do need a username and password to run the program, but once it's all set up, you are ready to program the radio. Oh, yes, in case you need it, the username is ham (all lower case) and the password is 89812345.
Operation - is it easy?
Once programmed, the VV-898 is fairly simple to operate. To turn it on, simply hold the power button down for a second or two, and release. Use the CHA+ and CHA- buttons on the console (or the * and # buttons on the hand mic) to change channels, adjust volume with the VOX+ and VOL- buttons on the console (or the UP and DN buttons on the side and top of the hand mic), and of course, the PTT on the mic to transmit, and your pretty much good to go. There are three buttons on the console that are user programmable to your needs. The A, B, C, and D buttons on the hand mic are preset for functions according the the chart below:
| Button | Operation |
| --- | --- |
| A | Call |
| B | VFO/MR Switch |
| C | A/B Mode Switch |
| D | VFO Band Switch |
The Leixen VV-898 seems like a plain, low power, unimpressive little radio, but it really does have a lot to offer. Is it a 125W PEP powerhouse Icom mobile or a feature rich Wouxun KG-UV920P-A? Of course not! Considering its small size, weight and unassuming looks, when you take a closer look at the Leixen VV-898, in some ways it seems even better.