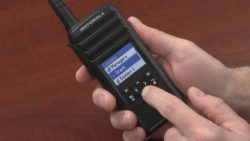 We've already done an introductory video on the Motorola DTR600, but we knew we needed something more. Now, we're going to go more in depth and show you how to program the DTR600 and DTR700 digital radios using Motorola's PMKN4154A programming cable (available in a kit as HKKN4027A) and free CPS PC programming software.
In this video, we'll install and setup the software, connect the radio to our laptop, read from the radio and create a profile in the software, create contacts and groups, write that profile back to the radio, and then we'll go back discuss some of the features that are configurable using the software.
The topics covered are listed below. You can watch the entire video or go to a specific section.
Want more videos? Browse our video blog and subscribe to our YouTube channel!