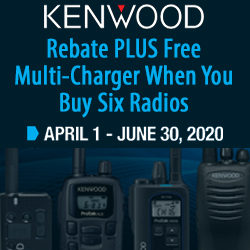 Spring rebates for 2020 on Kenwood business radios are here! Buy at least six Kenwood ProTalk® business two way radios of the same model and get a $100-$200 rebate plus a FREE multi-unit charger! Or, buy six Kenwood NX-360 Intrinsically Safe radios and get a $200 rebate! These offers are good on up to 90 radios purchased from Buy Two Way Radios until June 30, 2020!
If you've been waiting for the perfect time to buy Kenwood business radios, this is it! Buy a minimum of 6 radios and you get a rebate plus a free multi-charger! It is important to note the NX-360 Series Intrinsically Safe models do not include the free multi-charger, but they do have a big, big rebate.
And that's not all. These offers are also 100% valid on the Factory Reconditioned versions of these Kenwood radios as well! So, you're not only saving up to 25% when you buy 6 Kenwood Factory Authorized Refurbished radios, you are getting this deal, too!
The amount of the rebate depends on the model purchased. The rebate will be issued either in the form of a gift card or a check. It's your choice. The Kenwood ProTalk® radios and the rebate values for each model are listed below:
This a manufacturer rebate offer, so the rebate gift card(s) or check(s) and multi-unit charger(s) will be shipped to you after Kenwood receives your redemption form. Offer valid on up to 90 radios through June 30, 2020. Limit of one gift card and multi-unit charger per six radios for a maximum of fifteen multi-chargers on a purchase of 90 radios. Charging cups are included. To redeem your rebate, visit Kenwood's rebate website and access the redemption registration by entering Program offer code PRO-91156 for the ProTalk promo or Program offer code PRO-91160 for the Intrinsically Safe Radio promo.
NOTE: Rebates must be postmarked on or before July 31, 2020. The Kenwood rebate is NOT valid on radios delivered before April 1, 2020 or after June 30, 2020 regardless of invoice date. Offer good only in the U.S. and Puerto Rico and is void where prohibited, taxed and restricted by law. Read the Kenwood ProTalk Radio Promo and Kenwood Instrinsically Safe Radio Promo flyers for full details.