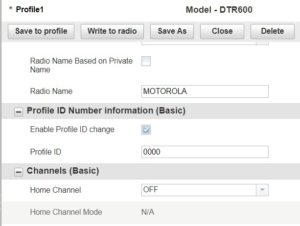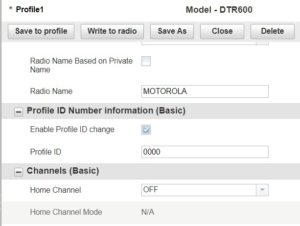 Motorola just released new firmware and software for their DTR600 and DTR700 900MHz digital two way radios. The update includes a bug fix and a tweak to an existing feature in the radio settings.
The bug fix resolves an issue that causes the display to freeze. When this issue occurs, the display will freeze, but the radio is otherwise still operational. It can receive and transmit calls and will also power off, however the screen will be locked up.
The feature tweak is a change to the programming software for Enable Profile ID under the Profile ID Number information. On the DTR600, the Enable Profile ID to Change Pin Code is set to Enabled by default from the factory. This change applies to the DTR600 only and does not apply to the DTR700.
According to Motorola, the DTR600 and DTR700 can be updated from radios with the original factory settings or those with the phase 1/2 patch installed. The radio should update successfully no matter which version was previously installed.
Important Note: This update should only be applied if you are already experiencing these issues. If you are using the DTR600 or DTR700 radios with default factory settings, the update should not be necessary.
The firmware updates the DTR600 and DTR700 to version R01.02.02, Codeplug Version: R01.02.01 and Keypad Version: R01.02.00.
The update files are now available as listed below.