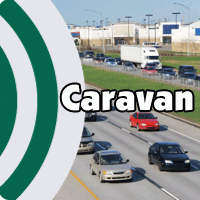 When multiple vehicles are travelling together, two way radios (or walkie talkies) are an excellent way for the entire group to stay in touch. Provide a radio per vehicle and, at the touch of a button, all travellers are immediately in contact. This makes it a breeze to coordinate route changes, stops for food or gas, or to notify the group of car trouble.
When shopping for a two way radio to be used for a caravan, the following features will be most important:
Range - Becoming separated by a mile or more is easy in vehicles. If one member of the group gets caught at a stop light, this distance alone could put you out of range for many two way radios. Range is absolutely the most critical consideration when considering radios for a caravan.
Battery Life - Without power outlets being readily available, keeping your radio charged is a big concern if you're planning a long drive. Look for models with extremely long battery life, those that have the ability to operate on standard AA or AAA batteries in a pinch, or models that support a vehicle charger.
NOAA Weather Information - Having weather information available is not a critical requirement, but may be convenient while travelling or when you reach your destination.