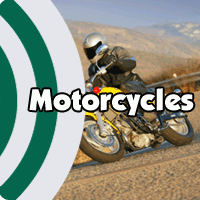 Motorcycles provide a unique challenge to communication while driving. Maintaining control of the motorcycle limits use of hand/arm signals and yelling is not very practical when drowned out by road noise. When you have multiple motorcycles travelling together, two way radios (or walkie talkies) are an excellent way for the entire group to stay in touch. Provide a radio per motorcycle, coupled with a headset or throat mike and, at the touch of a button, all travelers are immediately in contact. This makes it a breeze to coordinate route changes, stops for food or gas, or to notify the group of trouble without losing focus on the road.
When shopping for a two way radio to be used for a motorcycle, the following features will be most important:
Range - Becoming separated by a mile or more is easy with motorcycles. If one member of the group gets caught at a stop light, this distance alone could put you out of range for many two way radios. Range is absolutely the most critical consideration when using radios for communication while on a motorcycle.
Headset Support – Maintaining control of your motorcycle is essential for your and other rider's safety. A comfortable earpiece or headset is a requirement to ensure safe communication between all members of your group.
Battery Life - Without power outlets being readily available, keeping your radio charged is a big concern if you're planning a long drive. Look for models with extremely long battery life, or those that have the ability to operate on standard AA or AAA batteries in a pinch.
NOAA Weather Information - Having weather information available is not a critical requirement, but it may be the difference between driving through a rain storm or arriving dry at your destination.