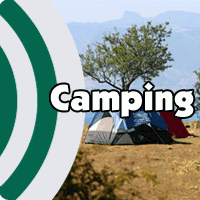 Two way radios (or walkie talkies) are a necessity when camping in a group of two or more. Cell phone coverage is unavailable in many camping areas, making radios the only way to keep in touch. It is also common for a GMRS two way radio to provide access to NOAA weather information. This can be critical, even life saving, when staying in remote outdoor locations.
When shopping for a two way radio for camping, the following features will be most important:
Range - Terrain at camp sites is commonly hilly and wooded, the opposite of what is ideal for a two way radio. A higher powered model can often provide around a mile of range in tough terrain. A weaker model may limit you to a quarter mile or less.
NOAA Weather Information - Knowing that severe weather is approaching in advance is extremely important, especially in remote locations.
Battery Life - Without power outlets being readily available, keeping your radio charged is a big concern. Look for models with extremely long battery life, or those that have the ability to operate on standard AA or AAA batteries in a pinch.