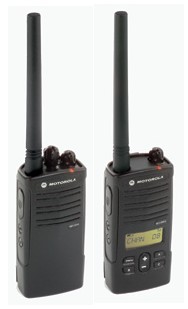 If you've been looking for a true dedicated MURS radio, your search is over. Motorola has just released two models, creating their new RDM series of MURS Two-Way Radios!
MURS (Multi Use Radio Service) is a set of five VHF frequencies allotted for both personal and business communications without the need of a license. Motorola is the first manufacturer we know of to produce a true MURS radio, complete with Part 95 approval and support for all five MURS frequencies.
The Motorola RDM Series MURS Two-Way Radios are high quality, business grade products that also meet military specs for durability. The RDM Series radios are also compatible with default frequencies on other popular but now discontinued 2 watt VHF radios such as the Kenwood TK-2200 and Motorola XTN XV1100, XTN XV2100, and XTN VX2600 series radios.
The Motorola RDM series launched with two models and we have them both! The Motorola RDM2020 MURS Two Way Radio has 2 channels and is simple to use. It features a tri-color LED to indicate transmit, receive and battery status. It also has two user programmable buttons so you can customize the functionality of the radio according to your needs.
The Motorola RDM2080d MURS Two Way Radio has 8 channels with aliasing and five user programmable buttons. In addition to the tri-color LED and other features of the RDM2020, the RDM2080d sports a display to accommodate additional features such as a battery gauge and signal strength indicator.
Both models offer 39 analog and 84 digital interference eliminator codes, channel scan, three voice-inversion scramble settings, three audible call tones, a 2 pin accessory plug that is compatible with the RDX/XTN/CLS series radios, and hands-free VOX mode with three sensitivity levels when used with compatible accessories (the RDM2080d also offers iVOX, which doesn't require accessories). Both radios have excellent audio quality and are built to industrial standards.
The RDM Series MURS radios are identical to models in the RDX Series. In fact, RDM2020 and RDM2080d MURS radios are actually the same radios as the RDV2020 and RDV2080d, respectively. The only fundamental difference is the frequencies on which they operate. The RDM2020 and RDM2080d support MURS VHF frequencies, while the RDV2020 and RDV2080d support 27 VHF business frequencies.
If you would like more information on the new Motorola RDM Series radios give us a call at 1-800-584-1445 or send us an e-mail. If you would like to know more about MURS check out the MURS Fact and Data Sheet or join the MURS discussions in our forums.