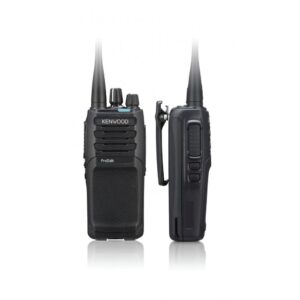 Kenwood ProTalk TK series business radios are a popular choice for their high performance and lasting durability. Now Kenwood is updating their ProTalk TK Series radios with new six models in the NX line. Known as the NX-P1000 Series, these new radios will replace the old analog-only TK series with more intuitive operation and greater performance, plus the ability support both analog and NXDN or DMR digital modes! Here's a rundown of the new Kenwood ProTalk radios for 2020.
The new NX-P1000 Series radios are available in models with either 2 Watts or 5 Watts of power and your choice of UHF or VHF. They are compatible with the legacy radios in the TK-2000/TK-3000 series, essentially replacing them.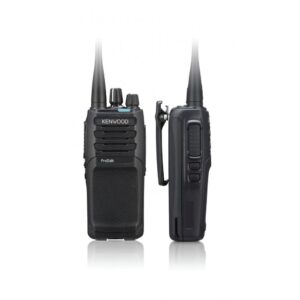 NX-P1202AV/P1302AU
This is the 2 watt version with a total of 64 channels and replaces the TK-2400 and TK-3400, respectively. The NX-P1202AV operates on 151-159 MHz VHF frequencies in the business band. NX-P1302AU transmits on 451-470 MHz UHF frequencies. Both models feature a 7 color LED indicator light, multiple scan modes, lone worker mode and emergency function. They also support radio-to-radio cloning with an optional cloning cable and are fully PC programmable with an optional programming cable and software.
One other new feature of the NX-P1202 and NX-P1302 is the PTT button. There are two of them! Yes, these radios have a second PTT so you can contact staff on another channel without switching channels to do it. This type of "dual transmit" feature can be extremely useful in work environments where separate communications can be relayed to different groups on different channels at the push of a button, greatly increasing efficiency and productivity.
Also, the NX-P1202AV and NX-P1302AU allow you to migrate to digital. These units are sold as analog only, but can be upgraded to digital for mixed mode operation at any time with the purchase of optional an software and license key package. You're not locked into one type of digital mode, either. You can choose whether to go FDMA with Kenwood's NXDN® digital format or TDMA using the DMR digital format. It's your choice. This ability to choose between two different digital with the same radio is uncommon at the time this article is written, which makes the NX-P1202AV and NX-P1302AU somewhat unique. Price: NX-P1202AV (VHF) $209.00 / NX-P1302AU (UHF) $209.00
NX-P1200AV/P1300AU
These are the 5 watt models and replace the TK-2402 and TK-3402. The NX-P1200AV works on 151-159 MHz VHF and the NX-P1300AU operates on 451-470 MHz UHF. They have the same core feature of the NX-1202 and NX-1302. except they are only upgradeable to NXDN. All the other features are the same, including the 7 color LED, second PTT button and cloning capability.
In fact, they use the same FCC IDs as their 1202/1302 counterparts, which means they are essentially the same radios with the same general capabilities. As with the 1202/1302, these radios are sold with analog enabled, with the option to digital. Price: NX-P1200AV (VHF) $269.00 / NX-P1300AU (UHF) $269.00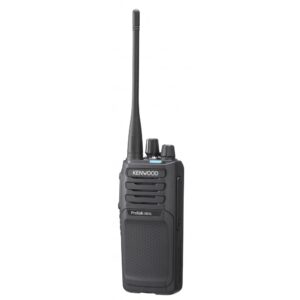 NX-P1200NV/P1300NU
These are the high end models in the NX-P1000 line and replace the NX-240V16P and NX-340U16P digital radios. As with the P1200/1300 radios, The NX-P1200NV is VHF and the NX-P1300NU is UHF. They share the same look, feel, basic features and ruggedness of the other new models, but with one important difference. There is no upgrade to digital. They support analog and NXDN digital modes right out of the box!
The P1200NV and P1300NU feature mixed-mode analog and digital operation, allowing you to integrate them into your legacy analog fleet seamlessly for a smooth migration to digital as your time and budget allows. They support switchable digital and analog dual modes., allowing you to combine analog channels and digital channels in the same zone. Add in the second PTT, and you have a powerful digital radio that's compatible with your existing Kenwoods, and with maximum versatility. Price: NX-P1200NV (VHF) $309.00 / NX-P1300NU (UHF) $309.00
There's more to this new Kenwood series than just the radios, and it's all good news. All six models are designed for compatibility with the same antennas, battery packs and chargers used with the legacy TK-2400 and TK3400 series radios. Plus, they use the standard Kenwood 2-pin (K1) style connector, which means you can use the earpieces, speaker microphones and other audio accessories intended for your existing Kenwood ProTalk radios with these.
Kenwood intended this to be as easy as possible to upgrade from their legacy products to their new radios. Based on their ruggedness, backwards compatibility, in-radio analog to digital conversion, and versatility, The new NX-P1000 Series radios should fit in quite well. All six models are now available from Buy Two Way Radios.