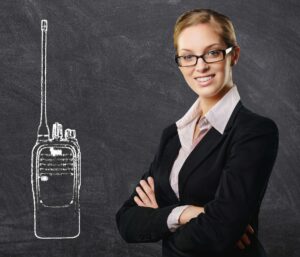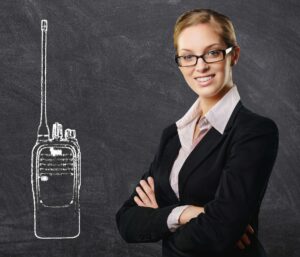 It's the year 2020. Schools are opening soon, but this year things will be different. Every school that is planning to offer classes on campus has adopted considerable changes. Some are restricting students to classrooms only and some are prohibiting visitors from entering their buildings. Others are alternating students between at-home and on-campus classes to reduce class size. No matter the scenario, an instant, reliable and simple means of communication between everyone on school property is vital, and radios are the perfect solution for ensuring safe interaction. Here's how radios and callboxes can enable safe, productive social distancing in schools.
Social distancing guidelines require a minimum of six feet between individuals. Since most classrooms are not built for this sort of distancing, many schools are forced to re-arrange classrooms to space out desks and limit the number of students allowed within a specific area. When each staff member is equipped with a walkie talkie, such partitioning is easier to organize and manage.
One strategy that schools are taking to limit the spread of coronavirus is by restricting movement between classrooms, within the facility and across the campus. Some schools are not allowing students to leave the classroom. Some schools are not allowing parents or visitors to enter the building. In some situations, even the teachers, staff and administrators may all be confined within their designated work areas to minimize the possible spread of a contagion. These are all scenarios in which it may be essential for each staff member to have a radio.
As an educator, you're probably already aware that every school is different, so there's not a one-size-fits-all solution for handling the current coronavirus crisis. Simply put, there are as many solutions for dealing with this pandemic as there are schools. Yet, if there is one thing that we keep hearing from our customers, it's that radios fit into the plan, and we're here to help with that. Here are a few products that are already popular with schools, and can help you meet your goals of providing a quality education in a safe, healthy environment.
Motorola CP200d
The Motorola CP200d is one of Motorola's most popular models and is commonly used by educators. Currently there is an opportunity to save $40 per radio on the CP200d when you buy at least 10. Contact us for a quote, or for more details.
The CP200d is a powerful 16 channel radio with superior audio quality and long battery life for extended periods on campus. The Motorola CP200d is available in either 4 watt UHF or 5 watt VHF models with 16 channels, superior audio and long battery life. Available in analog or analog/digital versions, both with repeater capability, the CP200d provides the coverage needed for reliable communications throughout your school.
The CP200d features Dual Capacity Direct Mode, All Call/Group Call/Selective Call (Digital Mode), Auto-Range Transpond System (ARTS™) Alert, Basic Privacy, Monitor Channel, and Voice Announcement. It is rated IP54 dust and water resistant, with the ruggedness and durability needed in an educational facility or on-campus environment.
Motorola VX-261
The VX-261 is a 16 channel radio with enhanced audio and a battery system that is universally compatible with other models in the VX-Series. It has 2 programmable keys for a custom configuration and a loud 700mW internal speaker so you can hear and be heard in and around the classroom. Features include MDC1200® FleetSync® 2-Tone and 5-Tone encode/decode and DTMF signaling options, multiple scan options, Dual Watch, Emergency Alert, hands-free VOX capability (w/VOX accessory), lone work feature, and Auto-Range Transpond System (ARTS™) Alert.
This is also a rugged radio. The VX-261 is IP55 water/dust resistant and meets MIL-STD 810 C, D, E, F and G for durability. It comes with a 3 year manufacturer warranty to boot.
Icom F4001
If you need a tough walkie talkie that's built for day-to-day use in the classroom or outside around school grounds, the Icom IC-F4001 is one to consider. This radio is a good choice for educational facilities that need rugged, reliable Mil Spec and IP54 radios which are also easy on school budgets.
The IC-F4001 a 4 watt UHF radio with 16 channels, CTCSS/DCS tones filtering, and powerful 800mW audio output for noisy classrooms and physical education activities in schoolyards. It features channel scan, 2-step power save, time-out timer, talk around function, lone worker function and hands-free VOX capability. The F4001 is also repeater capable and PC programmable. It comes with a battery pack that can power the Icom IC-F4001 for up to 20 hours on a single charge.
Icom F1000/F2000 Two Way Radio
If you need a walkie talkie with the power, features and durability of a big radio but in slim, compact shell for easier handling and greater portability in the classroom, you need the Icom F1000/F2000 two way radio. This little transceiver can take the long hours and heavy workloads of the average school day, but is considerably lighter, smaller and easier to carry around the campus. This heavy duty radio is IP67 waterproof, which means it can even take a dunking in up to 1 meter of water for up to 30 minutes.
The F1000 is the 5 watt VHF model and the F2000 is the 4 watt UHF version. Both have 16 channels.
The F1000 / F2000 may be compact, but don't let its small size fool you. It's loaded with powerful features, such as built-in 2-Tone and 5-Tone, CTCSS and DCS signaling for group communications, selective calling, quiet stand-by, channel announcement and a built-in inversion voice scrambler for safe, secure conversations. It's also MDC 1200 compatible, allowing for additional programmable features such as PTT ID, RX radio check and Stun/Revive.
The Icom F1000 and F2000 are especially designed with workplace safety in mind, so it's equipped with emergency features, such as programmable Lone Worker and Man Down features, an escalating alarm, a surveillance function, a built-in motion sensor to detect its position and state of motion, and an emergency signal that can be sent when there are extreme changes. These can be quite useful in an on-campus environment for both pandemic control and security reasons.
Ritron XT Series Heavy Duty 2-Way Radio Callbox
Ritron is a US manufacturer of solid, dependable callboxes for indoor and outdoor use, and their XT Series Callbox is top of the line. Managing visitor entry is crucial in this pandemic, and the Ritron XT is an excellent choice for any educational institution that needs to safely and securely control, limit or monitor access to school buildings or campus grounds from anyone on the outside.
The Ritron XT Series 2-Way Radio Callbox extends access control and instant, PTT communications to even the most remote locations on campus! It installs virtually anywhere on school property without trenching or expensive installation of wiring. It works seamlessly with your existing two way radio system and is both field and PC programmable with user adjustable settings. It features a built-in relay control for remote control of gates and doors, and remote activation. You can also program custom, pre-recorded voice messages for playback on demand. An optional lighted entry keypad is available for programming features into the callbox, as well as relay control.
The Ritron XT Series Callbox is available in analog models for UHF, VHF or license-free MURS radio systems. It is also available in digital models for NXDN® or DMR systems! Each callbox supports one channel, with a high-gain mic and a built-in speaker with loud audio output for noisy school environments. The XT can be powered by 6 alkaline "D" Cell batteries or an optional external 12VDC adapter, which is sold separately.
The Ritron XT Series Callbox is built for outdoor operation in all-weather environments, with a fiberglass housing and stainless steel faceplate. It comes with tamper-resistant fasteners to discourage vandals. This callbox is built for safety and security, which is a high priority for schools.
Ritron LM-600Analog LoudMouth Wireless Stand-Alone PA System
The LoudMouth is a public address system that allows you to broadcast announcements to a loudspeaker in and around the school property directly from your walkie talkie! it's an extremely flexible, yet cost-effective solution for campus alerts, announcements and notifications without the costly installation of a wired Public Address system.
The Ritron LoudMouth PA is an easy add-on that integrates seamlessly with your existing two-way radio communication system. It can be installed almost anywhere, which means it is perfect for locations where a wired PA is not feasible to install. the LM-600Analog can receive and play emergency weather warnings from the National Weather Service that are broadcast on one of the seven NOAA weather frequencies in the US! It works with your existing two-way radios on UHF, VHF, or VHF MURS. The LoudMouth also supports Canada UHF, VHF and Part 95 GMRS/FRS frequencies. It is also available in a DMR digital version for schools that use digital radios.
The Loudmouth PA consists of an industrial grade, dual band radio receiver connected to a powerful PA horn type speaker capable of —95dB [email protected] 50 ft. The unit is PC and field programmable for one channal with 156 digital and analog Privacy Codes and one of 10 selectable 2-Tone Codes. It also supports DTMF and Selcall Codes. It operates on 110VAC or an optional rechargeable back-up battery that can be purchased separately.
The Loudmouth PA may not be necessary for schools with fancy intercoms and PAs, but may be extremely useful for schools that need to make announcements specific to certain locations if their main intercom isn't capable of that type of flexibility.
Regardless of how your school is handling the pandemic this year, it's clear that radios are more necessary to its operation than ever before. Two-way radios and callboxes enable instant, safe and reliable communication at a distance, which is going to be an essential requirement for administrators, faculty, staff, and especially students this school year. Our staff is standing by if you need any further assistance. Contact us and we will be happy to help.