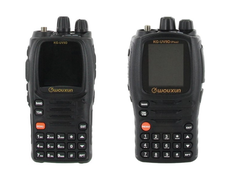 The Wouxun KG-UV9D and KG-UV9D Plus are very similar in operation, except the Plus has the added functionality of cross band repeat. To accommodate this new feature, the 9D Plus has an additional 6 items listed in its menu for a total of 61 items, in contrast to the 55 menu items in the regular 9D.
There is one catch. The KG-UV9D Plus does not currently ship with its own user manual. Instead, Wouxun put the regular 9D manual in the box. This means the six new menu items included with the 9D Plus are not listed or explained in the manual included with the radio.
When we first received the KG-UV9D Plus at Buy Two Way Radios, it threw us off a bit, and we knew this could be confusing for our customers as well. So, we contacted Wouxun and requested instructions for these additional items. They are listed in the chart below. Default values are bold.
New menu options added to the Wouxun KG-UV9D Plus
Menu #
Name
Option
Values
Description
41
BLCDSW
Backlight
Standby
Switch
ON/OFF
Controls the backlight when in
standby (default is only little
backlight for viewing the
display screen)
42
BLEDSW
Backlight
Prompt
Switch
ON/OFF
Indicates the radio is on when
the backlight is off in standby
(green LED light flashes every
5 seconds when the backlight
is completely off)
43
TYPE-SET
Repeat
Setting
TALKIE
DIR-RPT
TW-RPT
Selects whether the radio
is in Transceiver Mode,
Directional Cross-Band Repeat,
or Two-way Cross-Band Repeat
44
RPT-SPK
Repeat
Speaker
ON/OFF
Select whether to open the speaker
when there is audio received on
the repeating receiver.
45
RPT-PTT
Repeat PTT
ON/OFF
Select whether using PTT to transmit
out when repeating. The repeating
signal is interrupted while
PTT transmits.
46
RPT-KPT
Repeat
Hold Time
OFF/100-5000
300
When the signal disappears from the
receiver, the user continues
transmitting for a while when
waiting for response within the
valid hold time. If there is no more
signal detected, it stops
transmitting within the valid hold time.
The chart below lists the menu items of the KG-UV9D and the KG-UV9D Plus in order. To access the menu in each radio, press the MENU button nd use the UP and DOWN buttons to navigate to the desired menu option or enter the number of the corresponding menu item into the keypad.
Wouxun KG-UV9D and KG-UV9D Plus Menu Items
| Menu # | KG-UV9D | Description | KG-UV9D Plus | Description |
| --- | --- | --- | --- | --- |
| 01 | ABR:s | ➜ | ABR:s | Auto Backlight Time |
| 02 | SAVE | ➜ | SAVE | Power Save Mode |
| 03 | STEP | ➜ | STEP | Step Frequency |
| 04 | W/N | ➜ | W/N | Bandwidth Selection |
| 05 | TXP | ➜ | TXP | Transmit Power Selection |
| 06 | SFT-D | ➜ | SFT-D | Frequency Shift Direction |
| 07 | VOX | ➜ | VOX | VOX |
| 08 | SQL-LE | ➜ | SQL-LE | Squelch Level |
| 09 | ROGER | ➜ | ROGER | Begin/End Transmit Prompt |
| 10 | TOT:s | ➜ | TOT:s | Timeout Timer |
| 11 | TOA:s | ➜ | TOA:s | Transmit Overtime Alarm |
| 12 | VOICE-SW | ➜ | VOICE-SW | Voice Switch |
| 13 | BEEP | ➜ | BEEP | Beep Prompt |
| 14 | MENULANGE | ➜ | MENULANGE | Menu Language |
| 15 | BCL | ➜ | BCL | Busy Channel Lockout |
| 16 | Rx-CTC | ➜ | Rx-CTC | Receiving CTCSS |
| 17 | Tx-CTC | ➜ | Tx-CTC | Transmitting CTCSS |
| 18 | Rx-DCS | ➜ | Rx-DCS | Receiving DCS |
| 19 | Tx-DCS | ➜ | Tx-DCS | Transmitting DCS |
| 20 | SC-REV | ➜ | SC-REV | Scan Mode |
| 21 | SP-MUTE | ➜ | SP-MUTE | Mute Settings |
| 22 | DTMF-ST | ➜ | DTMF-ST | DTMF Sidetone Settings |
| 23 | PTT_ID | ➜ | PTT_ID | Caller ID Transmission Mode |
| 24 | ID-EDIT | ➜ | ID-EDIT | Editing Caller ID |
| 25 | ID-DLY:ms | ➜ | ID-DLY:ms | Caller ID TX Delay |
| 26 | RING:s | ➜ | RING:s | Ring Time |
| 27 | ABR-LV | ➜ | ABR-LV | Backlight Selection |
| 28 | OFFSET | ➜ | OFFSET | Offset Frequency |
| 29 | CH-NAME | ➜ | CH-NAME | Channel Name Edit |
| 30 | MEM-CH | ➜ | MEM-CH | Channel Memory |
| 31 | DEL-CH | ➜ | DEL-CH | Channel Delete |
| 32 | PRI-CH | ➜ | PRI-CH | Priority Channel |
| 33 | PRI-SCN | ➜ | PRI-SCN | Priority Channel Scan |
| 34 | AUTOLOCK | ➜ | AUTOLOCK | Keypad Auto Lock |
| 35 | LOCKMODE | ➜ | LOCKMODE | Keypad Lock Mode |
| 36 | S-TONE | ➜ | S-TONE | Single Tone |
| 37 | VOX-DLY:s | ➜ | VOX-DLY:s | VOX Delay |
| 38 | SC-QT | ➜ | SC-QT | Saving Scan Mode |
| 39 | APO-TMR | ➜ | APO-TMR | Auto Power Off |
| 40 | PONMSG | ➜ | PONMSG | Power On Message |
| 41 | RPT-RCT | Repeater Receipt Tone | BLCDSW | Backlight Standby Switch |
| 42 | SCN-ADD | Scan Add | BLEDSW | Backlight Prompt Switch |
| 43 | SCN-GP | Scan Channel Group NO. | TYPE-SET | Repeat Setting |
Additional resources:
Announcing the new Wouxun KG-UV9D (Plus) Limited Edition!
TWRS-89 - The New Wouxun KG-UV9D Multi-Band Radio
Wouxun KG-UV9D Plus Limited Edition unboxing video
How to set up cross band repeat on the Wouxun KG-UV9D Plus