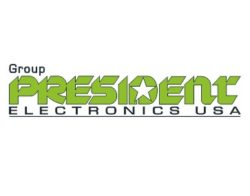 We've long been recognized as an authorized dealer of quality, name brand CB radios. Our product line includes models from such established and respected manufacturers such as Cobra, Galaxy, Midland, and Uniden. Now there's one more. We are excited to announce that we're now a President dealer!
President offers a very popular line of CB and 10 meter ham radios, and now all of them are available from Buy Two Way Radios. From the low priced President ANDY through the full featured President LINCOLN II Plus, you can find them all right here.
President CB Radios
ANDY USA
The ANDY is the entry level model in the President CB line. It's also the lowest priced of the series. But don't let this budget friendly bargain fool you. This CB radio has the full capability to deliver maximum power and high performance using 21st century technology. It operates on all 40 CB channels, receives NOAA weather channels, weather alerts, and has a large LCD display that can be customized to illuminate with one of 7 colors. It features a public address system, noise blanker, built-in Automatic Noise Limiter filter, talkback, a function key, and digital S-meter. The package includes a 4 pin electret handheld speaker microphone with a coil cord and a mounting kit. Price- $74.95.
BILL FCC
The President BILL is the next model up the line, and is very different in the look and feel. This is an ultra compact mobile, very similar in design to the Midland MXT115 GMRS Micromobile two way radio, but at a much lower price. Like the ANDY, the BILL supports all 40 CB channels at 4 watts, the maximum allowed for CB in the US. It also has 7 NOAA weather channels, weather alerts, public address capability, and a 7 color LCD display. Many of the other features of the base model are included as well, but the BILL has a few more. In addition to the noise blanker and ANL (Automatic Noise Limiter) filter, the Bill also adds a HI-CUT filter. It can also display the actual frequency of an active channel and has a USB charging port on the front of the radio. If you're short on space in your vehicle or want a CB with lots of features but a very small footprint, this is the radio for you. Price- $89.00.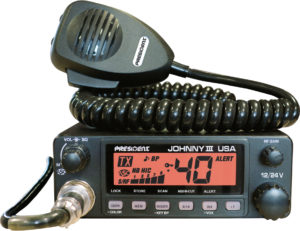 JOHNNY III USA
The JOHNNY III is similar in design to the ANDY, and with most of the same basic features, but with more buttons. This means more features and functionality over all. In addition to the 7 NOAA weather channels, weather alert, PA support, and noise filters, this radio has built-in hands-free VOX capability. This can be a useful feature while on the road. Now, the display is scaled back somewhat, with only 3 colors instead of the 7 color choices offered in the previous models. But it has 6 buttons on the front panel instead of 2, including one for emergency channel 9/19, Memory Channel Store/Recall and an F Function key. There is also one important difference with the mics. The Andy uses a 4-pin hand microphone, the Johnny III uses a 6 pin connector. It's no biggie, just something to be aware of when choosing between these models. Price- $109.00.
TAYLOR FCC
The President TAYLOR is a mid-range model, and switches to a more retro design. This looks and feels like a "traditional" CB radio, with the chrome plated front panel, toggle switches and analog style meter reminiscent of a classic CB. Yet, the addition of a 7 color LCD display also gives in a contemporary feel. Like the other models, the TAYLOR has the NOAA weather channels, weather alerts, PA capability, and the noise filters. Like the JOHNNY III, it also has VOX. It adds the S/RF VU-Meter, Up/Down Channel Selector and USB charging port. If you like the look of a retro CB radio but want the functionality of a 21st century model, This is a CB to consider. Price- $119.00.
JOHNSON II USA
The JOHNSON II is the same basic design and functionality as the ANDY and JOHNNY III, but adds something new, a built-in front speaker! Okay, it also has one more button than the JOHNNY III, but includes most of the standard functions and the 3 color LCD display of its counterpart. It also features 3 memories, channel and memories scan, and Dual Watch. It also has a local DX key. What's not to like about that? Like the JOHNNY III, the JOHNSON II uses a 6 pin connector. Good to know when shopping around. Price- $129.00.
WALKER II FCC
The WALKER II is a premium model. It combines the retro look of the President TAYLOR with a modern flair for a rather distinctive front panel that really stands out. It has the chrome plated front, 7 color LCD display, dials, switches, analog multi-function meter and USB charging port and adds several lighted buttons to the mix. The WALKER also has most all the features of its mid-range cousin and throws in a frequency display and an AM / WX mode switch for good measure. It's a classic President CB at a great value. Price- $139.00.
MC KINLEY USA
The MC KINLEY is the top of the line in the President CB radio series. Like the JOHNSON II, it has an internal speaker built right in, but has a larger 3 color LCD display. It has the primary features and functions of its lower tier look-alike, including 3 memories, channel and memories scan, Dual Watch and local DX key. Then it adds a clarifier and dimmer. The icing on the cake? Single Sideband! Yes, the MC KINLEY operates on AM and SSB, giving you greater access to the local CB airwaves. The MC KINLEY uses a 6 pin connector and has rear jacks for an external speaker, PA speaker, and optional VOX microphone. It's the ultimate President CB radio at reasonable cost. Price- $179.00.
President Ham Radios
RONALD
The RONALD is the base model in the President Ham Radio line. It looks nearly identical to the ANDY USA CB radio, except it operates on the 10 meter and 12 meter amateur radio bands. It may be low end, but it's certainly not low power. This compact dual band mobile radio can transmit at up to 35 watts of power and is capable of operating in both AM and FM modes. It has the same large 7 color LCD display as the ANDY, same front panel layout. It also has a noise blanker, built-in Automatic Noise Limiter filter, talkback, a function key, digital S-meter, and that's about where the similarities end. The RONALD adds an AM/FM mode switch, Dual Watch, span and adjustable time out timer. This package includes a 6 pin speaker microphone with a coil cord and a mounting kit. Price- $129.00.
RICHARD
The RICHARD is a dedicated 10 meter ham radio and the mid-range model. It operates at up to 13 watts AM and up to 40 watts FM. It has a 7 color LCD display that is smaller than the RONALD to make room for the analog bargraph meter and all the added controls on the front panel. The meter indicates reception and emitted power levels. It has ANL, NB and HI-CUT filters. It has an AM/FM mode switch, rotary channel selector switch, F function key, MENU function key, Dual Watch, Echo, VFO Mode, and a front panel USB charging port. And a lot of other stuff. The RONALD has big features at low cost. Price- $169.00.
LINCOLN II+
The LINCOLN II+ is the top tier President Ham Radio. It's similar to the RICHARD in form and function, only it has even more power, more modes and more stuff. it operates on both the 10 meter and 12 meter amateur radio bands and supports AM, FM, LSB, USB and CW modes at up to 35 watts on FM and a whopping 50 watts on AM. In addition to most of the standard features of the RONALD, it has 6 Memories, 38 CTCSS tones, 104 DCS codes, clarifier, and AM/FM/LSB/USB/CW Mode Switch. The LCD display only has 3 colors, but the other features more than make up for it. Plus, it's software programmable! Price- $249.00.
All of these President radios come with a two year manufacturer warranty!