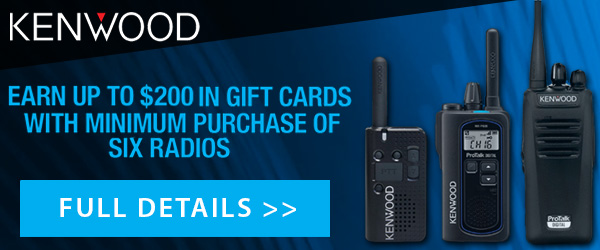 Kenwood is offering a great deal on select ProTalk series radios that you don't want to miss. When you buy at least six (6) Kenwood PKT-23, NX-P500, NX-240V16P or NX-340U16P radios, you qualify for a $100-$200 Gift Card. On a maximum purchase of 90 radios, this offer can potentially save you up to $3,000 on a fleet of radios!
This offer is fulfilled by Kenwood directly, so the gift card will be mailed to you after Kenwood receives your online rebate form. The promotion is valid on radios purchased from September 1 through December 31, 2019. Limit of one gift card per six radios. Download the flyer for details and register online with Program Offer Code PRO-89705 at Kenwood's rebate website to claim your gift card rebate(s).
NOTE: Model and claim information must be registered on-line on or before January 30, 2020 with promo offer number: PRO-89705. Radios delivered before or after the promotion date are not eligible, regardless of invoice date. Offer good only in the U.S. and Puerto Rico and is void where prohibited, taxed or restricted by law.