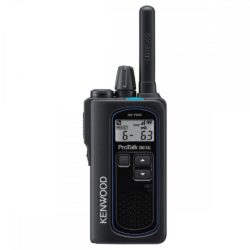 The prospect of migrating an entire fleet of two way radios from analog to digital was once a rather intimidating one, and involved a considerable investment in a new and very expensive technology. Not anymore. As seems to be the trend, prices on high quality digital radios continue to fall. More evidence for this is the recently released Kenwood ProTalk NX-P500 Digital Radio, which retails for only $219. Once limited to the domain of DMR, the cost of choosing NXDN digital technology is finally coming down. Thanks to the NX-P500, NXDN is now a very affordable option.
The NX-P500 is a small and lightweight UHF radio with two watts of transmit power. Its small footprint aside, this is a powerful little transceiver. It uses a 2000mAh lithium-ion battery pack that provides up to 15.5 hours of uptime on a single charge. Its built-in 750mW speaker belts out loud and clear audio and its LCD display is bright with easy to read icons and channel ID. It is also equipped with a 7 color LED indicator for call alerts and color coding groups.
The NX-P500 operates on 450-470 MHz UHF frequencies and has 99 user programmable memory bank frequencies. It supports both analog and digital mixed mode operation, so it can communicate with your existing fleet of UHF radios. The NXDN digital scrambler adds a layer of security to your digital communications. It also features Fleetsync® paging, VOX functionality and companding. It's repeater capable and supports wireless cloning. It's also waterproof and even submersible.
The NX-P500 is a ProTalk® series digital radio. With this model, Kenwood is clearly providing a digital option for users of their PKT-23 and the very popular TK-3230DX. Those analog models are great for many shorter range business applications, such as restaurants, retail stores, event management, or medical and dental offices. With the NX-P500, those businesses can now choose a radio that is similar in size that also offers digital sound and features.
The question is, should businesses that were using these small analog radios switch to the NX-P500? This is without a doubt a superior radio, but is it worth the money? First of all, even if your business isn't using any of the advanced digital features, you will take advantage of the improved audio clarity. Second, the FCC has established a mandate that any new radios over two watts must be digital. While analog radios such as the TK-3230DX and PKT-23 are under this wattage, it's clear that digital is the direction that the FCC is pushing the industry.
It seems logical to think that if you're eventually going to have to replace your fleet with digital radios, a good strategy is to start buying digital models like the NX-P500 now. Why buy another analog radio that you're going to have to replace later? The NX-P500 also supports analog, so it will work with your old radios now, and once you've replaced them all with digital models you can flip the switch and activate digital mode. Of course, if your business is currently not using radios at all, it definitely makes sense to start with digital. Either way, it's an easy, economical, and sensible route to digital two way radios.
If you have any questions about the Kenwood NX-P500 or moving to digital radios, don't hesitate to contact us!