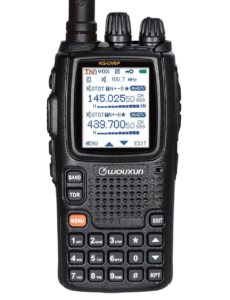 When Wouxun first introduced the KG-UV9P dual band handheld radio, it was already a high powered portable, with 5 watts on UHF and 7 watts on VHF. Now Wouxun has given it an upgrade, boosting the wattage to 7 watts UHF and up to 9 watts* on VHF! Simply put, Wouxun just upgraded the powerful KG-UV9P with even more power!
If this model is new to you, here's the rundown. The KG-UV9P first arrived in March 2019. It's essentially the KG-UV9D Plus, but with more power, for up to 7 watts on VHF. With our latest shipment, Wouxun just cranked up the power even higher by adding another 2 watts on both bands, and there you go. A high end, feature rich Wouxun handheld with a plethora of power.
There is one item to note with this upgrade. The KG-UV9P initially included both a standard and a stubby antenna in the package. Wouxun no longer offers a stubby antenna in this newer, higher power version. According to the manufacturer, "the short antenna is not workable with such a high power output. Therefore, we did not include the short antenna... at this time".
Considering the power maxes out at nearly 9 watts*, this is understandable. As such, use of a stubby antenna on this radio at full power is not recommended.
The new, more powerful Wouxun KG-UV9P dual band portable handheld amateur radio is now available at Buy Two Way Radios.
Questions? Leave us a comment below, call us at 1-800-584-1445 or enter our live chat from 8 AM to 6 PM weekdays!
*Update: in-house testing has shown an average of 8 watts on VHF, depending on the frequency, with a maximum potential power of 9 watts, and may vary between shipments of this model.