Wouxun has a reputation for feature rich, well constructed handheld transceivers at great prices. Models such as the KG-UV8D and KG-UV9D Plus have long been favorites of many hams, particularly for their powerful features, cross-band repeat capability and, of course, the now legendary Wouxun color LCD display. Recently Wouxun announced it is taking two of its popular, classic models, refreshing them into new models and adding more power. These two new radios, Wouxun KG-UV7D and KG-UV9P, are high powered portables, with up to 5 watts on UHF and 7 watts on the VHF band. Now, the new Wouxun KG-UV7D and KG-UV9P high powered portables are here!
Wouxun aimed each model at a specific user, although both can be used by amateur radio operators. According to Wouxun, both radios have the same FCC IDs as their predecessors and use the same programming software. The KG-UV6D accessories are also compatible with the KG-UV7D, and KG-UV9D Plus accessories will also work with the new KG-UV9P.
KG-UV7D
The Wouxun KG-UV7D is the successor to the KG-UV6D, a business grade workhorse of a radio that was Part 90 type accepted for business use. The 7D not only replaces the 6D, it is the same radio, with one exception. It now has 5 watts of power on UHF and 7 watts of power on VHF.
This extra power only enhances the already powerful features carried over from the 6D, such as the 199 programmable memory channels with CTCSS and DSC Scan, priority channel scanning, and 1750 Hz burst tone. the selectable power feature allows the 7D more latitude as well, giving you the option to transmit at high, medium or low power instead of simply in high or low power mode.
Other standard features include VOX support, SOS function, multi-scan mode, busy channel lockout, auto and manual keypad lock, customizable power on display message, English voice guide, FM radio, and a built-in flashlight. It's also quite rugged, as it is IP55 dust and waterproof. After all, it's primarily built for business use. Price- $109.99.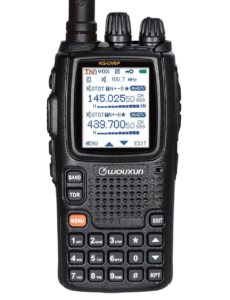 KG-UV9P
The KG-UV9P is the model that is more likely to appeal to hams. It is an amateur radio, and replaces the KG-UV9D Plus. In fact, it is a 9D Plus, with the addition of the same 5 watt UHF and 7 watt VHF power boost given to the KG-UV7D.
Like the 9D Plus, the KG-UV9P has UHF/VHF dual band tranmit, 7 band reception, 999 programmable memory channels, QT/DQT encoding and decoding, DTMF encode/decode and 25KHz/12.5KHz wide/narrow bandwidth selection. It features simultaneous dual band reception and can transmit on one band at the same time it receives on the other!
It also has the now legendary Wouxun color LCD display with five brightness levels and plenty of screen space to display two bands simultaneously. The display alone is a premium feature of this radio, and greatly enhances the overall operating experience.
One of the biggest features of the 9D Plus was the cross-band repeater. The KG-UV9P includes it as well! Other features include multiple scan functionality, priority scan, CTCSS/DCS scan and the ability to scan two bands simultaneously.
Of course, as we all know, hams like to talk. So, operating an amateur radio at higher transmit power for an extended period may require an power source that can adequately handle it, and without losing uptime. No worries. The KG-UV9P includes something really special, a high capacity 3200mAh battery pack! This super sized battery comes standard with the 9P package, which adds even more value to an already feature packed portable! Price- $139.99.
The KG-UV7D and KG-UV9D may be made of the same stuff as their predecessors, but they do add something new to the mix - more power. Both models are now available to ship from our warehouse at Buy Two Way Radios.