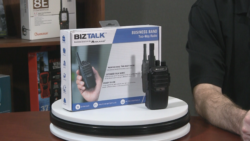 Midland is well known for its popular consumer FRS, GMRS, CB and emergency weather radios. The company recently expanded into the business communications market as well, with the introduction of its first portable handheld onsite business two way radio, the Midland BizTalk BR200.
In this video, Danny introduces the BR200 with an overview of its features and functionality. It's available in both a single Midland BR200 package and a six pack/multi charger combo from Buy Two Way Radios.
Want more videos? Browse our video blog and subscribe to our YouTube channel!