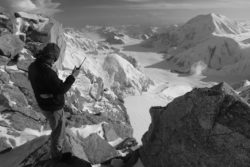 We get a lot of questions from customers that start with "what is the best radio" and end with a general description of a certain type of environment, scenario or application. Sometimes the question is specific enough to answer it with a short list of products that may fit the bill, or even a specific recommendation. More often than not, it's not. For example, what are the best two way radios for use in the mountains? This question covers a such a broad spectrum of variables and conditions, that the answer requires more than a just brand name or model number. It requires a basic understanding of the principles behind radio technology and the specific scenario in which it will be used.
Recently, this question popped up in our Two Way Radio Forum. A new member needed a set of two way radios for use in the Himalayas with a priority on maximum range and battery life. His question was simple. He wanted long range two way radios for use in the mountains.
Of course, he came to the right place to ask. We have several resources that specifically address the use of two way radios in mountainous regions. Many of them can be easily discovered in our forum. Had he simply searched the term "mountain", he would have quickly found numerous discussions on the topic, with helpful advice, explanations and recommendations from other members of the community. That is only the start.
Within the forum, there are links to numerous articles from our blog that specifically address radio range and explain how to calculate the range in different environments and situations. There are video tutorials and product overviews embedded throughout the forum to provide a visual perspective on the options and choices available when considering a radio for use in such an environment. Then there is The Two Way Radio Show, one of the longest running podcasts about two way radios, highly rated and popular with two way radio users worldwide. Several episodes specifically discuss the use of radios in mountains and hilly terrain, presented in simple layman terms and in great detail.
We even have a Buyer's Guide to help choose a radio for a specific application, such as camping, hunting or skiing in the mountains.
With all of these resources available to address the question, one may think the solution is simple, with the recommendation of a single product. But it isn't. There are several factors to consider, and it would only be redundant to create a very long and involved mashup of all the other resources already in existence on this topic to address them. Instead, here is a brief list of the key points to consider, along with links to related resources for further explanation.
When choosing the best two way radios for use in mountain regions, consider the following:
The Terrain
A radio operates by line-of-sight, which means that the radio signal needs a clear path with minimal obstructions in order to traverse the airwaves from one radio to another. buildings, trees, and other obstructions can potentially slow, diminish, deflect or block radio waves completely. Simply put, if the radio can't see it, you won't hear it.
This is particularly true when it comes to something as large and dense as a mountain. Radio frequencies, especially when generated by a low power handheld, cannot penetrate through a mountain. The make and model you buy doesn't matter. Your handheld radio won't cut through a mile plus high, thick and wide pile of earth and rock with a few watts radiated power. Your signal will need to go around or over the mountain. It's the second thing to understand and one of the most important things to consider when choosing any radio for use in very hilly or mountainous areas.
The Environment
Weather conditions and other environmental elements also affect range. The weather conditions in mountainous areas can be somewhat extreme, and in some regions of the world, they can be particularly harsh. Extreme weather can negatively affect the transmission and reception of radio signals, and can also take its toll on the radios themselves.
Extreme heat and cold can be brutal to electronic radio equipment, and can directly affect operation or performance. Batteries are particularly be sensitive to extreme temperatures, and can fail to charge or power the radio when exposed to temps outside their level of tolerance.
The Location and position of the radio stations
In mountainous regions, range will vary greatly depending on where you are. Remember, radio frequencies work on line of sight, and mountains can completely block radio signals. The range can be great between mountaintop to mountaintop, but will be quite limited valley to valley.
If you are at the top of Mount Everest, you can get excellent range with a basic, low power FRS radio, provided the other station is positioned either on another peak or in a valley surrounding the great mountain.
However, your high power base station won't get far at all if you are down in the valley and you are trying to communicate to a station in another valley. Even if both stations are on the same mountain, communication will be extremely difficult if the stations are on opposite sides. The radio signal may simply not be able to penetrate the mountain to reach the other side. As with the real estate business, the same is true with using radios in the mountains. It's about location, location, location.
The Antenna
The antenna is a critical component of any radio, and its placement is key to the successful transmission and reception of radio signals. This is especially when using radios in and around mountains, and is why antenna towers for cell phones and radio repeaters are often placed on mountain peaks. The higher the antenna, greater the line of site and the better the range. If you can see the tower, chances are good you can hit it with a signal from your radio, and vice versa.
When using handheld radios in remote mountain ranges, your antenna needs to be positioned as high as possible to maximize line of site. This means you need to be elevated to a position high enough so that your antenna can acquire the signal and communicate with the other station.
The Power Requirements
Although location is key,  the wattage capability of the radio cannot be discounted. Handheld radios are designed for short range communications, and will have limited power. A typical handheld business or amateur walkie talkie operates at up to 5 watts or less, and most consumer models are a lot less. Most mobile radios are capable of up to 50 watts of power, often depending on the band they transmit on.
Unfortunately, unless you are operating from a vehicle or permanent structure such as a cabin with ample power, the mobile or base station radio may not be practical for use in mountainous areas, especially in remote locations.
When traversing the mountains on foot, handheld radios may be the only option, but they come with their own set of of challenges to keep them powered up.
The Type of Radio
The type of radio you choose does have some bearing on performance, and there are many options available, so you will need to research them to find the best fit for your needs in the high country. VHF radios work well outdoors in hilly terrain with relatively few unobstructions . UHF radios are typically preferred for use indoors and outdoors in areas with a lot obstructions. FRS, GMRS and MURS radios are the logical choices. If you have an amateur radio license, you will have even more bands available from which to choose, and a great selection of handheld ham radios to match.
The Durability Requirements
If you will be camping, hiking, hunting or other engaging in other outdoor activities in the mountains, you will want to consider the durability of the radio as well. Build quality, water resistance, dust protection and general ruggedness will be important, and vary greatly depending on the make and model of radio.
Some low end consumer FRS and GMRS radios are not built to withstand a rain shower or a any sort of excessive drop. Many higher end radios can take serious exposure to the elements, shocks, drops and sometimes more. While it isn't likely any radio would survive a one-mile plummet from a mountaintop, there are many models specifically built for hiking, camping and other extreme outdoor activities that can handle necessary roughness. Tip: Look for radios that are rated IP54 or higher for dust and water protection, or are Mil-STD rated for dust, shock and water resistance.
The Rules
The rules or laws regarding the use of specific types of radios, bands and frequencies are different for each country, so research them for your area of operation before making a purchase. If you live in the US, the agency that governs the airwaves is the Federal Communications Commission (FCC).
If you purchase radios in the US for use in another country, it is very important to check to be sure your radios can be used legally in that country. If you are planning to take your radios on a trip to a mountain range such as the Himalayas, your radios may or may not be legal for use, depending on the country in which you will be using them. For instance, Mount Everest is located on the border between China and Nepal. The Himalayas border or cover a number of other countries as well, including India, Pakistan, and Afghanistan. Each has their own laws and rules regarding the use of radios, and it is wise to be aware of them before taking your two ways on such a trip.
So, what is the best two way radio for mountains? The short answer is, there is no fast and easy answer to the question. It's going to depend on your specific location within the mountain range, what you will be doing, and how you plan to use the radios for your application. There is a lot to consider, and the question is too broad for a simple answer. You will need to invest some time and do some research based on your specific scenario before you buy a pair of two way radios.