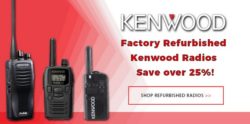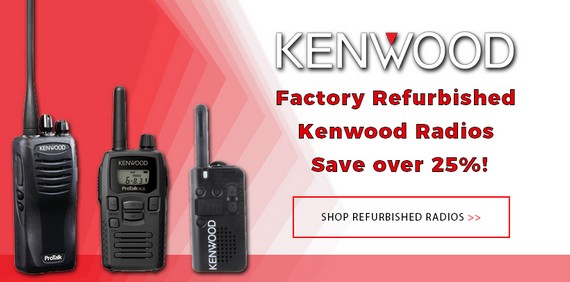 In Autumn 2018, Kenwood began to offer reconditioned models of its ProTalk line for sale. This was a phenomenal buy, but these refurbs were in limited supply, and all these models eventually sold out. Now, the Kenwood Factory Authorized Refurbished Radios are back, and with four additional models!
As we outlined in our original announcement in 2018, each factory refurbished radio includes all the same components that are packaged with the new models, in particular the battery, charger antenna and owner's manual, so you are getting the complete radio. Not only that, they are tested and verified to work and even come with the full Kenwood two year manufacturer warranty!
Plus, when you buy the refurbished versions of current models that qualify for the Kenwood rebate promotions, the refurbs qualify for those promotions as well! So, you not only save money buying the the reconditioned radios, you get all the benefits of purchasing new! This is a phenomenal deal from Kenwood and is only available at Buy Two Way Radios.
Refurbished models include the PKT-23, TK-3230DX, TK-2400V4P, TK-3400U4P, TK-2400V16P, TK-3400U16P, TK-3402U16P, NX-240V16P and NX-340V16P.
In addition to the Refurbished models originally available in 2018, Kenwood has added four more models to the mix: TK-2402-V16P, NX-P500, TK-D240V DMR Digital VHF Two Way Radio, and TK-D340U DMR Digital UHF Two Way Radio.
These factory authorized refurbished radios are only available from Buy Two Way Radios, and only in very small quantities. When they're gone, they're gone, so take advantage of this amazing deal while you can.
Of course, if you want the new models, you can browse our complete line of brand new Kenwood ProTalk business radios. The choice is yours.
Want to know more about the Kenwood factory refurbished two way radios? Watch our video or listen to episode 129 of our award nominated podcast, The Two Way Radio Show for an in-depth discussion on these radios!