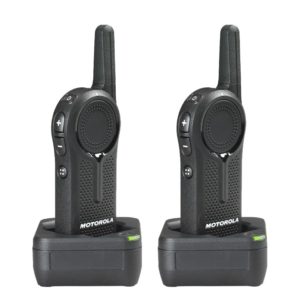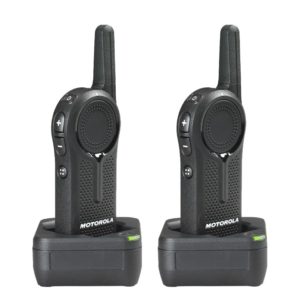 The Motorola DLR series radios are an excellent choice for businesses that want a high-quality digital radio with excellent privacy features. These radios also operate on 900 MHz digital frequencies, which means they can be used legally without applying for an FCC license!
The DLR series radios are ultra-compact, lightweight, and offer crystal-clear communication. They also use FHSS "frequency hopping" technology, which gives you a much higher degree of privacy from outside interference generated by neighboring businesses that may also be using these radios. Built to military-grade specifications for shock, dust, and water resistance, the Motorola DLR series radios are very versatile, and a great addition for almost any type of business.
If you've decided the DLR series is right for you, your next task is to decide on a model. This series offers two options: the DLR1020 and the DLR1060. What are the differences between these two radios? Well, there are really only two, and for the most part, the model you choose depends on how many channels you need.
The DLR1020 is the base model in the DLR series, and offers 2 channels. For most small, single location retailers and mom-and-pop type stores with simple operations and just a few employees, this is likely all you really need. The DLR1020 is priced at $209.00.
For larger restaurants, retail operations, and businesses that need more channel groups, the DLR1060 model supports up to 6 channels. This allows you to assign a dedicated channel to different departments, such as front clerks, stock clerks, managers and maintenance personnel. The DLR1060 is priced $10 more than the DLR1020, at $219.00.
Other than the number of channels and the price, there is no difference between these models.
Need more than 6 channels? Move up to the Motorola DTR series!