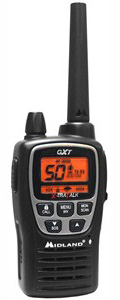 You may have noticed that most of the consumer two-way radios you see around advertise a range of up to 30 miles. The truth is, consumer FRS/GMRS radios will not even provide close to the advertised "maximum range".
The range that a two-way radio advertises is the range that the radio should get in "ideal" conditions. Ideal conditions are line of sight, such as from a mountaintop to a valley below -- no interference at all. Most likely, you will not be using the radios in these circumstances! You will probably want two-way radios for things such as hunting, skiing, malls, car trips or vacations. Under these normal conditions, the range of the radio will be limited because of obstructions, such as trees, hills, or buildings. These obstructions block the signal and dramatically reduce the range of a two-way radio.
So what type of range can you expect from your radio? Usually half a mile up to two miles, depending upon your terrain and the power of your radio. In the same environment, a 2 watt radio with a long antenna would provide considerably more range than a half watt radio with a short antenna.
When choosing a radio, it is very important to consider both the amount of range that you need and the environment in which you will be using the radios. Naturally, you wouldn't have as many obstructions in a football stadium as being in the middle of a heavily wooded area. For use in a stadium you would likely be fine with a small, one watt radio. In a wooded area, however, that same radio may not provide sufficient range. These are things that you need to take into consideration when choosing which two-way radio is right for you.
Related Resources
GMRS Radio Range Chart
Getting The Most Range From Your Radio
The Two Way Radio Show TWRS-05 - Radios in Range
The Two Way Radio Show TWRS-45 - The Truth About GMRS Radio Range
Radio 101 - The truth about FRS / GMRS two way radio range
How To Optimize Range for Motorola Talkabout Two Way Radios