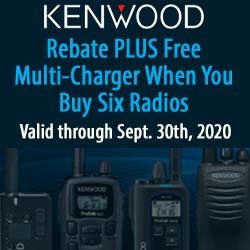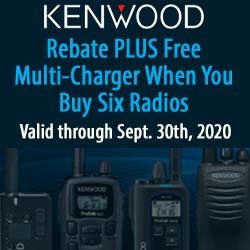 The spring rebates on Kenwood ProTalk® radios were a huge savings for many businesses and organizations, especially during the pandemic. If you missed this special deal, we have great news. The Kenwood rebate is extended to September 30, 2020!
Here's the deal. Buy at least six Kenwood ProTalk® business two way radios of the same model and get a $100-$200 rebate plus a FREE multi-unit charger! This rebate is valid on up to 90 radios purchased from Buy Two Way Radios from now until the end of September, 2020!
And if that isn't enough, the rebates are also totally valid on the Kenwood Factory Authorized Reconditioned versions! Save up to 25% on the refurb models, get the full Kenwood warranty on them, and get the rebate to boot! It doesn't get any better than this.
The amount of the rebate depends on the model purchased. The list Kenwood ProTalk® radios and their rebate values are listed in this chart.
Other rules and restrictions apply. Read the official Kenwood flyer for details.