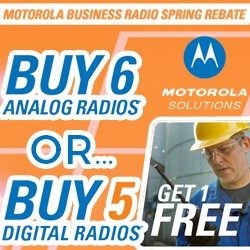 Just when you thought the good deals were over, here comes the Motorola Move up to Digital free radio offer! Buy at least six Motorola CLS, CLP, RM or RD Series radios and get one FREE radio. Buy at least five Motorola DLR Series or DTR600 radios and get one FREE radio! This is a bit different from some previous Motorola rebates and promotions, but still a great deal for any business or organization looking to build, add to or upgrade a fleet of two way radios!
As with past promotions, this one is fulfilled by Motorola directly, so the free radio will be shipped to you after Motorola receives your online redemption claim.
Offer valid on up to ten (10) qualifying claims or 60 radios purchased through May 31, 2020. Limit of one free radio per six (6) analog radios purchased, or one free radio per five (5) digital radios you buy, up to 60 maximum. All groups of five or six radios purchased must be within the same product series. Offer valid from March 1 to May 31, 2020. Purchaser must redeem the free radio(s) or free radio(s) and free earpiece(s) online at www.MotorolaSolutionsRadioRewards.com. Other rules and restrictions apply. Read the promotional flyer for details.
The Following models qualify for the offer:
NOTE: Redemption requests must be entered by 11:59 PM EST on Friday, June 19, 2020. Redemption submissions received after that date will NOT be eligible. Offer good only in the U.S. and Puerto Rico and is void where prohibited, taxed and restricted by law.