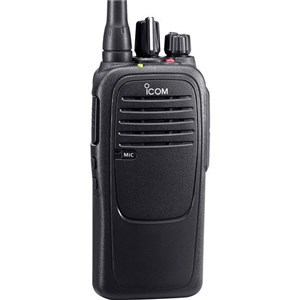 It's no big secret that the Icom F4011 has been a top selling business radio the last couple of years. Users seem to love the 4011 and its VHF counterpart, the F3011. Well, apparently Icom stepped up its game with the IC-F1000 (VHF) and the IC-F2000 (UHF) radios. As with the 4011, The F2000 could be another best selling Icom business radio, perhaps, at least in part, because it's priced very close to the 4011 and adds another level to its feature set.
This radio is rated IP67 waterproof and dust tight, which means it can be submersed in up to 1 meter for 30 minutes. In other words, it's completely waterproof. this is an improved rating over its predecessors. The F3011 and F4011 were rated IP54, so the increased IP67 rating on the F2000 is definitely a step up.
The F2000 is a smaller, thinner radio. It is also lightweight. The F2000 is definitely slimmer and lighter in weight than some of the other portable handheld Icom radios. In comparison to the F4011, which weighs in with battery at about 10.6 oz., the F2000 weighs only 8.47oz. with its battery.This is due in large part to the battery itself.
The battery is probably the only negative for this radio, but not by much. The F4011 has a BP-232N 2000mAh battery that's rated for about 16 hours of operation. In contrast, the F1000/F2000 uses the BP-279 1485 mAh battery pack, a smaller battery but still rated at about 14 hours of operation. So in order to lose a lot of size and a lot of weight, you're giving up two hours of operation, but fourteen hours is still plenty of operating time for many businesses.
Another item that factors into the overall weight of the radio is the built-in speaker. As a general rule, a more powerful speaker typically adds a little more weight to the radio. The F2000 has a large 36mm, 800mw speaker, compared to a 500mw speaker on the 4011. It's a lighter radio with a louder speaker. Now that's an interesting twist.
A louder radio is probably always better, anyway. After all, you do have a volume control. If you don't want to use maximum volume you don't have to, but the option to go with an extremely loud radio is usually a good thing, because there may be a time or place when you may actually need the added volume.
The F2000 looks slim and feels light, but is it really that durable? It's an interesting question, because for many radio operators it's often difficult to equate the idea of small size and light weight with durability at the same time. When one thinks of durability and ruggedness, it is easy to assume the radio has to be heavy, feel solid and have the general consistency of a brick. The term heavy duty tends to create an image of something that is large and heavy. Perhaps it's psychological, but it is a common conception, or to be more accurate, a misconception, because it isn't necessarily true.
Take the the older radios from the late 90's and early 2000's that were bricks (please, take them). They were heavy as can be, but as the years passed and technologies changed and advanced, new materials were developed and new components were invented that are smaller, lighter in weight, yet just as robust as the materials and components found in older radios. So, it's no stretch at all to think a newer radio such as the F2000 could be just as rugged and durable, and even more so, then an older, larger and heavier Icom, Kenwood or Motorola radio. In fact, it makes sense.
So the chassis quality of the Icom F1000/F2000 is pretty good, overall. What about some of the other specs on this radio? What kind of features are we looking at here?
For starters, there are several versions of this radio. The IC-F1000/S/T operates on 136-174 VHF frequencies at up to 5 watts. The IC-F2000/S/T is the UHF version, with 400-470MHz frequencies at up to 4 watts output power. The IC-F1000 and IC-F2000 models have 16 channels. The F1000S/T and F2000S/T models feature 128 channels.
The F1000 and F2000 are the base models. These are most similar to the F3011 and F4011, respectively. The F1000S and F2000S have a display and a simple keypad consisting of four programmable function keys on the front of the radio. F1000T and F2000T include the display, four programmable function keys and full DTMF numeric keypad.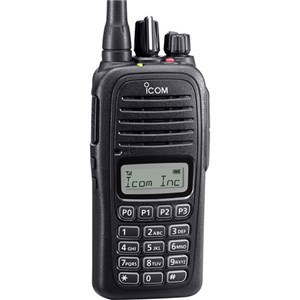 The F1000/F2000 features built-in 2-Tone and 5-Tone, CTCSS and DCS signaling for group communications and selective calling. It has voice channel announcement, so you don't have to look down at the radio when you're switching channels. You can hear what channel you're on. You don't have to take your eyes off of whatever you're doing.
In addition, the F1000/F2000 radio has quiet stand-by and a built-in inversion voice scrambler. It's MDC 1200 compatible, providing for programmable features such as PTT ID, RX radio check and Stun/Revive. It also has a surveillance function, escalating alarm, and eight DTMF memories.
New to the F1000/F2000 is the built-in motion sensor. This is a very interesting feature with a lot of potential uses. With the built-in motion sensor, the F1000/F2000 series can detect its position, state of motion and non-motion, and can send an emergency signal. For example, the motion function detects if the transceiver is moving or shaking during a chase.
This radio has an integrated a Man Down or emergency button on top. The lone worker and Man Down functions are programmable. When the button is pressed during an emergency situation, it basically puts the radio in VOX mode so the radio can communicate to the other radios within range. The F4011 and F3011 series did not have that option.
Icom claims the F1000/F2000 is easy to hear in noisy areas. The combined Man Down feature, the emergency button and ability to hear the radio above louder noises could make this radio a good choice for use in warehouses or construction areas where potential hazardous situations could arise. This may also be useful in schools, particularly these days when there are heightened concerns about school security. Considering the fact that schools are kind of noisy places anyway, such emergency features may be needed on a two way radio.
When you're talking about 2 watt radios and less, most of the time they are not fully programmable. You're kind of stuck with the 50 to 100 frequencies that are already pre-programmed into them. This Icom is a fully programmable radio. If you have a business operation that needs a smaller, lighter radio but may need to expand in the future and go through a repeater, in many cases you would have to throw all those lower powered radios away and move to something else. But going with something like the F1000 or F2000, if you ever need a repeater, if you ever need to expand your system, this radio will support it. You can just program you radios instead of getting rid of them.
So it's not just a small, light radio, it's packed with some features, as well. But what about accessories?
The Icom F1000 and F2000 uses the same, standard two-pin Icom S6 connector, so if you have the F4011 or F3011 radios and want to add or upgrade to the F1000 or F2000 models, all of the audio accessories for your old radios will work with your new ones. Since the F1000/f2000 is also waterproof, there's a waterproof speaker mic available for it.
There is one thing to keep in mind with the accessories. When you're using an accessory with this radio, the F1000/F2000 may not be waterproof if your using a non-waterproof accessory. You're going to need a specific waterproof type connector to keep that seal over the connector port watertight. Most accessories, particularly aftermarket accessories built for non-waterproof radios, are probably not going to create a water tight seal when used with this model.
If you don't use an accessory with the F1000 or F2000, you must keep that port cover on the side. You need to have the cover on the side to make it waterproof. It requires two screws to hold it on and it has some sort of grommet on the inside of that side plate cover to keep the water out. A lot of folks don't want to have to put that thing on. If you don't do it, water will get into the radio if it gets very wet or submerged. If you are going to be using the radio without an accessory, it is highly recommended to have the port cover on there just to ensure that you have the full waterproof capabilities.
The F1000/F2000 series starts at $179, compared to $169 for the 4011, and for an extra $10 you get a lot more functionality. You also get waterproofing. When it comes to the price, the Icom F1000 and F2000 radios are a great value for the waterproof capability alone.
There is a lot to like about the Icom F1000 and F2000 radios. It's smaller, thinner, lighter, yet durable and fully waterproof. It's a 4 watt UHF/5 watt VHF radio that's fully programmable, can work with repeaters, compatible with a lot of radio systems using MDC1200, and will fit into many different environments and business types, including manufacturing facilities, warehouses, schools, restaurants, retail stores, casinos and hospitality.
With such flexibility, the F1000/F2000 Series radio has a lot to offer any business or industry. Icom seems to have stepped up their game and taken their radios to another level.