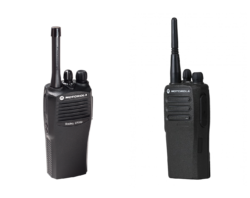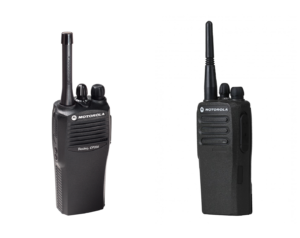 The Motorola CP200 was a very popular business two way radio for many years, and one of Motorola's best selling models. In 2017, Motorola discontinued the CP200 and replaced it with an updated model, the CP200d.
On the outside, they are essentially the same radio. On the inside, there's more to the story.
The CP200 is an analog only radio. The CP200d adds digital functionality. This digital difference alone gives the CP200d an obvious edge over its predecessor. But is that the only advantage? Let's compare the differences and similarities between these two radios.
Compatibility
The Motorola CP200d is a combination analog and digital radio, so it is backwards compatible with the older CP200 in analog mode. The dual analog and digital mode capability allows you to upgrade to digital gracefully through normal attrition instead of ditching analog entirely and going digital all at once. This makes the move to digital much more affordable, and much easier to manage.
Audio Quality
It goes without saying that digital radios tend to have a greater clarity than analog models, and the CP200d is no exception. Digital audio is cleaner, without a lot of the background noise and artifacts typically heard on an analog transmission. This helps minimize requests for re-transmissions of garbled or lost dialogue, thus decreasing response time and improving efficiency of communications between everyone in your group. As a digital radio, the CP200d improves on the CP200 with crisp, clear audio for higher quality sound.
Features
Both models support up to 16 channels, and both share the same physical characteristics, such as the rotary channel selector knob, tri-color LED, accessory connector, large push-to-talk (PTT) button and two programmable buttons on the side.
Inside, both models include many of the standard features typically found on many analog business two way radios, but the CP200d includes a few more, such as analog scrambling, a password lock, vote scan, and Auto Range Transponder System (ARTS™). The CP200d also has voice announcements.
The CP200d is a DMR digital radio, so it adds some unique features not available in an analog radio such as the CP200, such as Dual Capacity Direct Mode, private calling, and transmit interrupt (decode only). These digital features, combined with the added features in analog mode, give the CP200d a significant upgrade over the old CP200.
The table below compares the features of both models.
Motorola CP200 vs. CP200d Features
Feature
CP200
CP200d
(Analog)
CP200d
(Digital)
Adjustable Gain
✔
✔
✔
Adjustable Power
✔
✔
✔
All Call
✔
✔
✔
ARTS™ Alert
-
✔
-
Call Alert
✔
✔
✔
Channels
16
16
16
Channel Scan
✔
✔
✔
DMR
-
-
✔
Dual Capacity Direct Mode
-
-
✔
Emergency Alert
-
✔
-
Group Call
-
✔
✔
Low Battery Alert
✔
✔
✔
Monitor Channel
✔
✔
-
Nuisance Channel Delete
✔
✔
✔
One Touch Access
-
-
✔
Password Lock
-
✔
✔
Power Selectable
✔
✔
✔
Privacy
-
-
✔
Private Call
-
-
✔
Repeater Capable
✔
✔
✔
Scrambling
-
✔
-
Selective Call
✔
✔
-
Squelch
✔
✔
-
Talk Around
✔
✔
✔
TDMA
-
-
✔
Transmit Interrupt
-
-
✔
Trill Enhancement
-
✔
✔
Voice Announcement
-
✔
✔
Vote Scan
-
✔
-
VOX
✔
✔
✔
Battery Life
The CP200d offers slightly longer battery life in analog mode than the CP200, and much longer uptime in digital mode. The CP200d consumes less power in digital mode than analog, and it's another advantage to going all digital.
Motorola CP200 vs. CP200d Battery Life
Model
Power
1400 mAh
NiMH
1600 mAh
Slim Li-ion
2200 mAh
Li-ion
2250 mAh
Li-ion
CP200 (UHF)
4W
10 Hours
12 Hours
-
14 Hours
CP200 (VHF)
5W
10 Hours
12 Hours
-
14 Hours
CP200d (UHF)
Analog
4W
9 Hours
10.5 Hours
14.5 Hours
-
CP200d (UHF)
Digital
4W
11.5 Hours
13.5 Hours
18.5 Hours
-
CP200d (VHF)
Analog
5W
9 Hours
10.5 Hours
14.5 Hours
-
CP200d (VHF)
Digital
5W
11.5 Hours
13.5 Hours
18.5 Hours
-
Footprint
Both radios are roughly the same size, but the CP200d is slightly lighter in weight, by about an ounce. Of course, this depends on the battery used, but in every case, with the same battery on both models, the CP200d comes out ahead.
Durability
The Motorola CP200 and CP200d are comparable in durability, with solid construction. These radios are built with a rugged, die-cast chassis to withstand harsh environments. Both models are rated IP54 for dust and water intrusion. They are also compliant to Portable Military Standards (MIL-STD) 810C, D, E, and F. In addition, the CP200d is MIL-STD 810G. The CP200d includes a two year warranty from Motorola.
Accessories
The CP200 and CP200d share the same form factor, so the batteries, chargers, antennas and other accessories are fully cross-compatible. If you already have a fleet of CP200 radios and want to migrate to digital, going with the CP200d is ideal, since you can use all the accessories in your existing fleet to mix and match with both models. This is a real money saving value and is another reason consider the CP200d.
Although they have important differences, the Motorola CP200 and CP200d are also very similar in the sense that they are compatible with one another in analog mode. If you already use CP200 radios in your work environment and need to replace a few or want to go digital, the Motorola CP200d is the logical choice.