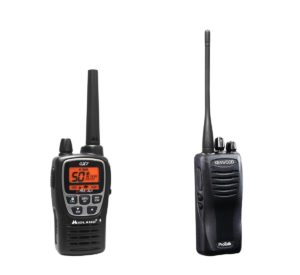 One of the questions that we are asked frequently is if a new two way radio that a customer is considering purchasing will be compatible with older radios that they already have. This compatibility question is best answered based on the type of radio (such as consumer vs. business), as the answer is very different.
Consumer Radios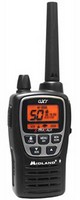 Consumer radios generally operate on a standard set of frequencies assigned to preset channels. But that's only part of the equation. There are different types of consumer radios, so these frequency and channel assignments depend on what type of radio it is.
Perhaps the most popular type of consumer radio is the FRS/GMRS walkie talkie. These radios operate on the UHF band. At one time this type of radio used either the GMRS or FRS services, and for awhile most were manufactured as "dual service" radios that supported both FRS and GMRS. These radios typically had 22 channels. Older models with only 14 channels were considered FRS radios.
After the FCC Part 95 reform in 2017, these combo radios were no longer considered dual service, but reclassified as either FRS or GMRS, depending on their wattage among other things. Today, FRS and GMRS share the same channel and frequency assignments and are able to communicate with one another on the same standard 22 channels. Additionally, Some GMRS radios have 8 additional channels to communicate with GMRS repeaters.
Regardless, all of the radios that support FRS and/or GMRS use the same frequencies and are compatible with one another. Simply set all radios to the same channel number and privacy code, and you will be able to communicate. FRS and GMRS radios are not cross compatible with other types of consumer radios.
CB radios operate on the 11 meter AM band, and have their own channel and frequency assignments. CB radios have 40 channels, and some are capable of Single Side Band (SSB) operation. CB radios are not cross-compatible with any other consumer radio service.
Consumer Marine radios operate on VHF marine frequencies and are intended for use on private, non-commercial vessels over water. Some older marine radios were dual service radios combined with FRS/GMRS, but
the FCC no longer allows the manufacture or sale of these models. Marine radios are not cross-compatible with other types of consumer radios.
MURS radios operate on the VHF band and have 5 dedicated channels. These radios can be used by consumers or businesses, which technically puts them in both types for this discussion. However, it is its own radio service with specific operating requirements and restrictions. MURS radios are not cross compatible with other types of consumer radios.
Popular manufacturers of consumer radios are Cobra, DeWALT, Galaxy, Midland, Motorola (Talkabout series), President, Uniden and Wouxun. Kenwood used to make GMRS models (the TK-3101 and TK-3131, for example), but have moved away from consumer radios and no longer produce them.
For a more in-depth discussion on the different types of consumer radios, listen to episode 75 of The Two Way Radio Show Podcast.
Business Radios


Compatibility is not nearly as straightforward when it comes to business radios. First of all, there are several types of frequencies that business radios are made to support: VHF, UHF, and 800/900 Mhz frequencies, for example. The first step in finding a compatible radio is choosing a model that supports the same frequency type as your existing radios.
These frequency types refer to an entire range of actual frequencies, and just choosing the same frequency type does not guarantee compatibility. If you purchased your existing radios from a true two way radio dealer, there is a possibility that the dealer could have programmed special custom frequencies into the radio. If this were the case, your radios may not be compatible with a new radio even if you purchased the exact same model.
Usually most compatibility issues arise with 4 or 5 watt radios, which are much more likely to support custom programming. With one or two watt business radios, it is a little easier to ensure compatibility. The Motorola CLS series of radios and the two watt RM series models will always be compatible, and two watt Kenwood radios that are marked with a ProTalk label will always be compatible, provided you purchase the same model.
In addition to band and frequency compatibility, there are different types of digital business radios which are not inherently compatible with one another. These include DMR, NXDN, and 900 MHz digital radios.
DMR is a very popular digital technology used by Motorola, Vertex Standard and TYT. There are a plethora of DMR radios available that are compatible with one another. NXDN is used by Kenwood and Icom. While not as prevalent as DMR, NXDN radios are popular with some businesses and organizations. These two technologies use different methods and protocols, so are not cross-compatible on their own without some type of digital converter.
The 900 MHz digital radio is another thing entirely. It uses Frequency Hopping Spread Spectrum or FHSS technology. This is a clever concept that increases secure communications, but comes with the caveat that one brand of 900 MHz radio may be completely incompatible with another.
If you have any questions or concerns about business radio compatibility, the easiest option is to simply contact us and we can recommend a compatible solution. For older radios or radios that could have been custom programmed, we may ask that you send in the radio so that we can read the actual frequencies from the radio before making a recommendation.
Related Resources
Looking for a MURS Compatible Radio?
It's Official: Vertex Digital and Motorola TRBO Radios Now Compatible
The Two Way Radio Show TWRS-07 - Comparing Small Business Radios
Radio 101 - The facts about GMRS two way radio compatibility