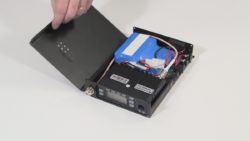 When the Leixen VV-898 first showed up on the market, many hams suggested turning it in a go-box. Apparently Leixen liked this idea, because that's exactly what they did. The result? Leixen created the VV-898P and VV-898SP Mobile Backpack Radios. This unique product line consists of either a 10 watt VV-898 or 25 watt VV-898S unit mounted in an enclosure with everything needed to function as a portable radio capable of instant-on operation virtually anytime, anywhere.
In this video, Rick introduces these mobile backpack radios and tells you what they are designed to do. Buy Two Way Radios is an authorized Leixen dealer.
Want more videos? Browse our video blog and subscribe to our YouTube channel!