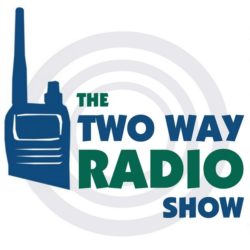 We have some exciting news! Our podcast, The Two Way Radio Show is nominated for the 2019 People's Choice Podcast Awards!
Hosted by our company President Danny Feemster, Chief Operations Officer Anthony Roque and Product Manager Rick Savoia, The Two Way Radio Show educates and entertains listeners with news, information, reviews and lively discussion about two way radios and radio related technology.
The Two Way Radio Show first premiered on February 21, 2011, and was warmly received with positive reviews from the start. When we first launched the podcast, we had no idea how far it would go, or if it would go anywhere at all. Eight years later, we still have plenty to talk about, and the show continues to grow. The Two Way Radio Show has subscribers and dedicated listeners from the US, Canada, Australia, the UK and many other countries around the world.
This year, The Two Way Radio Show was nominated for The 14th annual People's Choice Podcast Awards in the Technology category. Founded in 2005 by RawVoice CEO Todd Cochrane, The People's Choice Podcast Awards is the oldest and most respected awards event in podcasting. This is a worldwide event, and The Two Way Radio Show is competing with nine of the most prestigious tech podcasts in the world for an award in this category.
The winners of The Podcast Awards will be announced during the Podcast Awards Ceremony, which will be streamed live around the world on September 29th, 2019 at 8 PM Eastern time. The ceremony will be held in conjuction with International Podcast Day. Founded in 2014, International Podcast Day is a 24 hour event celebrated annually worldwide on September 30th.
Buy Two Way Radios as well as the producers and hosts of The Two Way Radio Show would like to thank all of our listeners for being a part of the show, with a special thank you to those who nominated our podcast for this award. Whether we win the award or not, the fact that our listeners consider us worthy to be considered for nomination is greatly appreciated. We are truly humbled by this honor. Thank you!
If you haven't yet heard The Two Way Radio Show, give it a listen. It's also a great opportunity to catch up and binge listen to all our past episodes! It's available from Apple Podcasts, Blubrry, Google Podcasts, Spotify, Stitcher Radio, TuneIn, and other venues. You can download and listen to all episodes of The Two Way Radio Show on demand at www.twowayradioshow.com. You can also subscribe to the podcast to hear the latest episodes on demand on your mobile device anytime, anywhere.
The Two Way Radio Show is produced by Cricket Ventures, LLC, the parent company of Buy Two Way Radios.